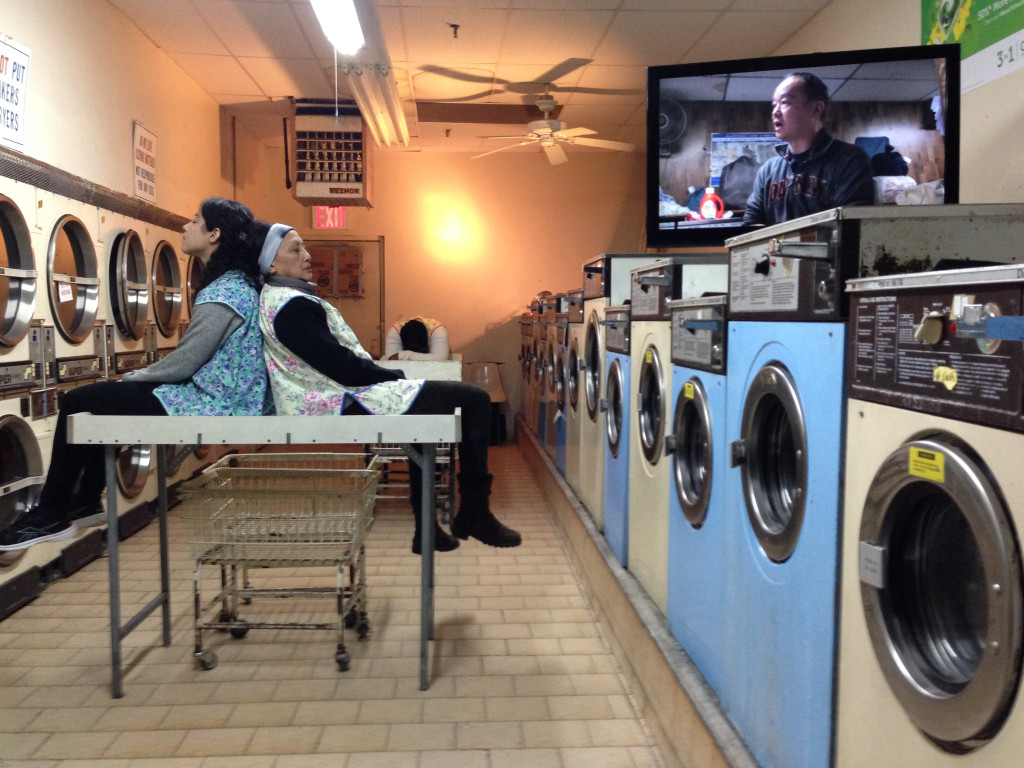 EVERY FOLD MATTERS
Created by Lizzie Olesker and Lynne Sachs
EVERY FOLD MATTERS is a live performance and a film project that looks at the charged, intimate space of the neighborhood laundry and the people who work there. Set at the crossroads of a Brooklyn neighborhood, we meet four characters in a laundromat — a uniquely social and public space that is slowly disappearing from our changing urban landscape.  Based on interviews with New York City laundry workers, the project combines narrative and documentary elements as it explores personal stories of immigration, identity, money, stains and dirt.
Co-directors Sachs and Olesker have long admired one another's work. Taking the chance to bring a hybrid, experimental performance into a real-world environment inspires both artists, allowing each to take risks in her creative practice.  While both women have long careers in their respective fields, they are each exploring a new terrain with EVERY FOLD MATTERS.  For Lynne, this project represents her second project mixing documentary film with live performance. For Lizzie, it offers a new way of integrating the moving image with playwriting.
EVERY FOLD MATTERS looks at the seemingly mundane, everyday world of laundry through a personal and social lens, providing new insight into the way we take care of the things closest to our bodies.  Stories are revealed through heightened dialogue and gestural, choreographed sequences.  EVERY FOLD MATTERS provides an opening into a historic form of domestic work which is mostly unseen, or at least unnoticed, tended to by those who go unrecognized and undervalued.
"The legacy of domestic work, the issues surrounding power, and the exchange of money for services are all potent themes which rise to the surface and bubble over in dramatic, thrilling escalations of the everyday." (Brooklyn Rail)
"Spotlights the often-invisible workers who fold the clothes, maintain the machines and know your secrets." (In These Times)
"The intersection of film and performance, reality and imagination, employee and customer, historical fact and personal anecdote…You made us rethink the laundromat as a site of urban convergence, where strangers (of different races, religions, languages and classes) make ritualistic visits to a public space that's also a functional extension of their own homes." (Alan Berliner, filmmaker)
Cast: Jasmine Holloway, Veraalba Santa, Tony Torn, Ching Valdes-Aran, Production: sound artist and composer Stephen Vitiello; film editor Amanda Katz; cinematographer Sean Hanley
Workers Unite Film Festival: Andrew Tilson, Chris Maltby, Nick McCarthy
Website design: Christine Dickerson, Boyd Ruamcharoen, In Choi.
Poster Design: Sofía Gallisá Muriente.
Production support: Mars Marson, Beata Calínska (interns); Spencer Plassman, Alex Noyes (sound recording); Johnny White (set design)
Voice performance:  Wai Ching Ho; Yarani del Valle
Special thanks: Emily Rubin and Loads of Prose/ Dirty Laundry for inspiring the creation of this entire project.
EVERY FOLD MATTERS has received financial support from New York State Council on the Arts, Guggenheim Foundation. Brooklyn Arts Council, Lower Manhattan Cultural Council (through Dirty Laundry/Loads of Prose), Women and Media Coalition, Fandor FIX Filmmakers and numerous individuals through our Indiegogo and Kickstarter campaigns.