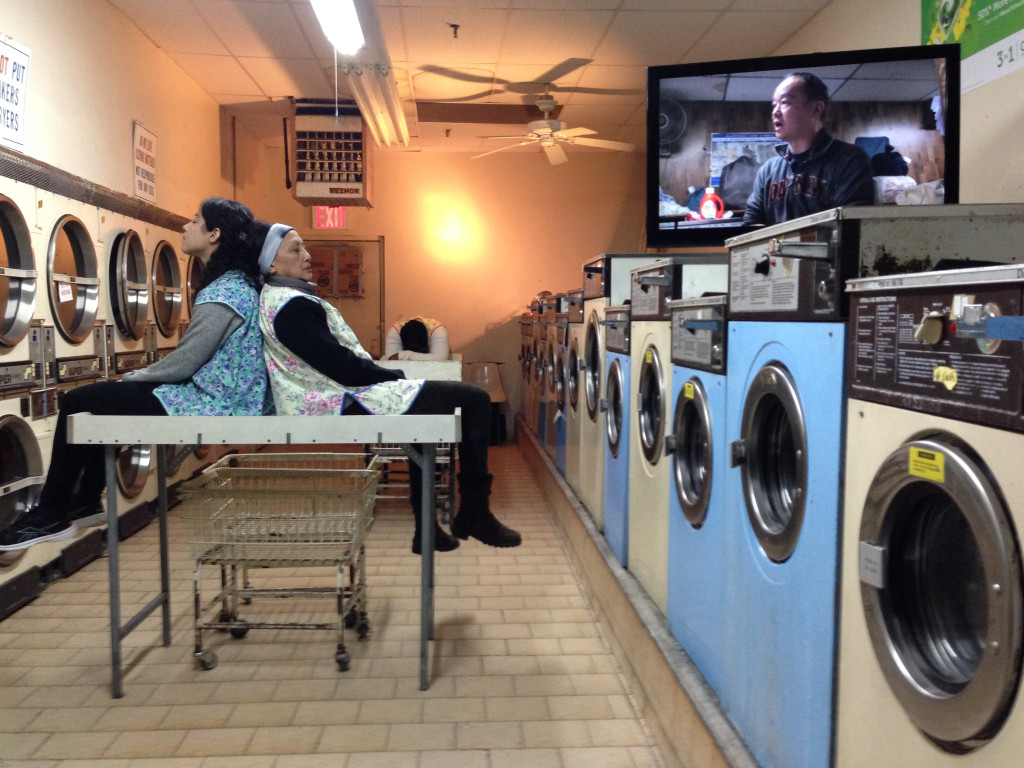 Since 2014, playwright Lizzie Olesker and filmmaker Lynne Sachs, both artists living in Brooklyn, have been collaborating to explore the disappearing public space of the neighborhood laundromat and the continual, intimate labor that happens there. Our cross-disciplinary project includes the site-specific, live performances of Every Fold Matters (2015 – 2017) and the 2018 film, The Washing Society.
         We first presented Every Fold Matters, the live performance iteration of our project, in working laundromats in Brooklyn and lower Manhattan. Commissioned by Loads of Prose/ Dirty Laundry, Every Fold Matters was developed over an almost two-year period of research and interviews with NYC laundry workers which then became the basis for our original, co-written text. We then developed the piece with actors Jasmine Holloway, Veraalba Santa, Tony Torn, and Ching Valdes who each created characters representing laundromat workers, a customer, and the ghost of a post-civil war African American laundress. Set amidst a laundromat's actual  folding tables, washing machines and dryers, our characters shared stories, heightened dramatic scenes, and idiosyncratic moments interspersed with documentary film elements projected from the laundromat's TV monitor.
         After our initial site-specific performances , we presented Every Fold Matters in New York theatres, colleges, union halls, and settlement houses with our four composite characters moving through a day at the laundromat. Our performers utilized a direct, minimalist approach that embraced elevated language and movement to express their inner thoughts, outer conflicts, and other moments in their working lives.
         Our more recent 45 minute hybrid documentary film The Washing Society brings us into New York City laundromats and the experiences of the people who work there. Inspired by historian Tera Hunter's book To 'Joy My Freedom: Souther Black Women's Lives and Labors After the Civil War which depicts the 1881 organization of African-American laundresses in Atlanta, The Washing Society investigates the intersection of history, underpaid work, immigration, and the sheer math of doing laundry. Drawing on each other's artistic practices, Olesker and Sachs maintain a stark, poetic approach to documenting those whose working lives often go unrecognized, turning a lens onto their hidden stories, which are often overlooked. Dirt, skin, lint, stains, money, and time are thematically interwoven into the very fabric of The Washing Society through interviews and observational moments. With cinematography by Sean Hanley, editing by Amanda Katz, and original music by sound artist Stephen Vitiello, the film explores the slippery relationship between the real and the re-enacted with layers of dramatic dialogue and gestural choreography. The juxtaposition of narrative and documentary elements in The Washing Society create a dream-like, yet hyper-real portrayal of a day in the life of a laundry worker, both past and present.  
         The Washing Society has screened at international festivals including  Punto de Vista, Spain; Encuentro de Otre Cine, Ecuador; European Media Art Festival, Germany; Vancouver International Film Festival; and BAMcinemaFest in Brooklyn.  In addition, Olesker and Sachs have traveled with the film to these colleges and universities: Symposium on Black Feminist History, Carter Woodson Institute for African-American Studies, University of Virginia; University of Pennsylvania; Smith College; Mount Holyoke College; University of North Carolina; Dennison College; Amherst College; University of Buffalo; Tisch School of the Arts, New York University; Princeton University, Lewis Center for the Arts.